I have to go to the grocery store. It is "senior Wednesday" which means EVERYTHING is 10 percent off, food, toiletries, paper goods, EVERYTHING. So it is a good day to go shopping except for all the "old" people lol. I am one but it does not feel like it except in my knees and a few other places. I am glad to get the 10 per cent off once a month at the store. But in the same token I am feeling that being am "oldster" really is detrimental to my goals and careers.
There are so many opportunities for the young "up and coming" artists but I wonder "what about us old up and coming artists? Granted many people my age are already established and have made a name for themselves but I think many more are just starting out after years of doing something else. I always say that if I had only known I would have pursued art whole heartedly from the beginning. – but I didn't. I did many diverse things. Own a bar in a small town in North Dakota, CNA, Deputy Sheriff, Realtor, and fish factory worker, Department of human services and in my spare time had a small farm.
During that time I felt the pull of being an artist. I just did not express it with paint and a canvas. My land where I planted flowers and trees was like a canvas to paint on. Raising the animals and the kids is an art in itself. All this took much much work.
Just think if I had been an artist all those years I could still go to the grocery store for 10 per cent off. I cannot look back, only forward and keep my dream in mind. "It is good to dream, but it is better to dream and work. Faith is mighty, but action with faith is mightier"
Thomas Robert gaines.
-.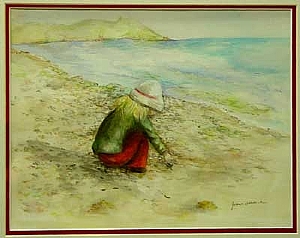 Bailey Island 12 x 16 watercolor