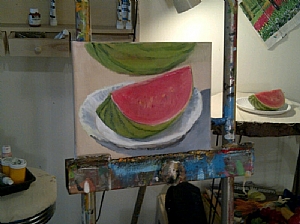 I painted in oil again today. I cut the watermelon into pieces in order to paint it and the insides. It contemplated how I wanted to cut it because I knew I wouldn't be able to "uncut it". So I went with the long way and sliced it into quarters. I was surprised because the ride was so very thin and the red/pink was less intense than I had envisioned it. Also this was a so called "seedless" watermelon so it just had a few tiny little whitish seeds. That made it difficult to show the seed pattern.
I worked up some color and seemed to get a pretty good likeness. The painting looked a bit drab probably because of the way I had it set up. I decided it needed something so I added a background watermelon. It helped a lot.
I am really having fun with the oil painting!
I read Jack White's article on ebay and it was inspiring. I have hesitated doing ebay because most of my paintings were larger. Now that I am getting into some smaller work I think I will give it a shot. I know from experience selling old baseball cards for my friend, Michael, that it takes time and energy.
"Go and see what others have produced, but never copy anything except nature. You would be trying to enter into a temperament that is not yours and nothing that you would do would have any character." (Pierre-Auguste Renoir)