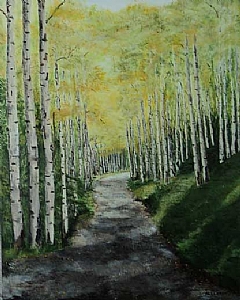 Well, I finally finished the 30 x 24 landscape called "Around the Bend". I noticed I needed a little change here or there even as I was photographing it. I think it worked out good. I will put it up here with the blog. The way the sun is coming down with no definite angle makes for interesting shadows across the road and in the grass. I love painting the shadows and sunlight
It does give me a sense of accomplishment to finish this painting. Unfortunately the down fall follows. The excitement of getting one painting done and then starting on another leaves a void momentarily.
I have not decided what I am going to paint next. Probably another landscape with the little oil paintings thrown in.
I have been reading so much good stuff on FASO. It is amazing how much info is available.